Return Home
Murdered Catholic Priest's Body
Found on Roadside in India.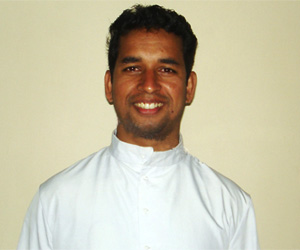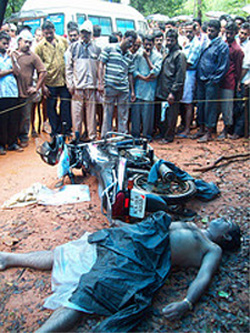 Father James Mukalel, 39, was found murdered on 30 July 2009 in a village near coastal city of Mangalore in south Indian state of Karnataka.

A Catholic priest was found murdered in a remote place on the side of a road in a village near Mangalore in the southern Indian state of Karnataka on Thursday.

Father James Mukalel, 39, was found murdered on 30 July 2009 in a village near coastal city of Mangalore in south Indian state of Karnataka.

Top Indian Official Calls Violence Against Christians a Disgrace.

Indian Christian Calls for 'Peace Day' to Forget Violent Past.

A Christian advocacy group is calling on the Central Bureau of Investigation (CBI) to investigate the "clear case of murder."

Father James Mukalel, 39, priest of the Belthangady diocese in Karnataka, was killed when he was returning to his parish, after attending the funeral of one of his earlier parishioners in Thottathady village, Daiji World local online news reported.

According to Fr. Thomas Kannankal, the diocesan social work director, the death of the priest appears to be a clear case of murder, as his body was found naked and lying away from the motor bike he was riding.

The body did not bear any injury marks, Kannankal noted, but it was apparent that someone suffocated him to death.

Mukalel was originally from the diocese of Tellichery and had opted to work in Belthangady diocese. Belthangady is a division within Dakshina Kannada, a western coastal district of Karnataka facing Arabian Sea.

Kannankal told UCA News that the priest served in Kutrapady parish and had gone to Thottathady parish to attend a funeral. After the funeral, he visited some homes and ate dinner in a convent in the parish. He started to head back on his motor bike at around 9 p.m. on Wednesday.

Some parishioners noticed his naked body lying by the roadside at around 7 a.m. on Thursday.

Belthangady diocese in Dakshina Kannada had reported some violence against Christians in the past year and police are investigating, the priest told UCA news.

Dakshina Kannada was in the news last year when the Bajrang Dal in Karnataka's Mangalore state attacked over 30 prayer halls in September. Fifty-three Christians were injured.

Bangalore-based Christian advocacy group Global Council of Indian Christians (GCIC) said Karnataka, ruled by the Hindu nationalist Bharatiya Janata Party (BJP), recorded the second most number of attacks against Christians in 2008. It is "second to Orissa where many have lost their lives and homes."

"Karnataka recorded at least 112 anti-Christian attacks across 29 districts in 2008 and at least 10 more such incidents have been reported this year," Dr. Sajan George, president of GCIC told Compass Direct News earlier.

GCIC has strongly condemned the murder, and has called the CBI to investigate the case as well as other attacks against Christians.

"We are shocked and dismayed in the brutal murder of Fr. James Mukalel," GCIC said in a statement Thursday. "This is the 33rd incident of attacks against Christians in Karnataka in the year 2009."




Copyright 2021 Diocese of Kannur